Two perennial rivals in the local club circuit faced-off for one final time this season at the Racecourse Rugby stadium for the coveted Dialog Clifford Cup title.
Both teams were well prepped up for the occasion and knew it was an "all or nothing" battle that was between them and Cup final glory. In what turned out to be mouthwatering clash, Kandy SC left it late to edge out the Longden Place club and emerge Triple Champs for 2016, having already bagged the 7s and League titles, thus stamping their 'invincible' status in the club arena.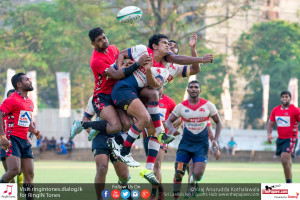 The "Red Shirts" started the game full of confidence testing the kandy defense early on. And after a few phases, a neat punt ahead by CR & FC scrum half Kavindu De Costa was well chased by Jason Dissanayake who managed to ground the ball right at the end to register his team's first points for the day. Full-back Prince Chamara failed with the conversion. Kandy were in no mood to play second fiddle especially in a game of this magnitude and after few minutes of sustained pressure, reduced the lead to two points with Nigel Rattwatte slotting in a 'threefer'.
Five minutes later, CR were penalised again for 'off side'. Rattwatte was once again on target with his kick and Kandy went ahead by one point (5-6 to Kandy).
The 25th minute saw Tharinda Ratwatta dummying his way through to score a beautiful try. Prince Chamara though fluffed the conversion. CR increased their lead to 10 points when Prince Chamara and Tharinda Ratwatta put over two back to back penalties.
CR had their first blow when Kavindu De Costa who was controlling things for his team had to leave the field due to injury in the 30th minute which took away a little bit of the attacking compulsion he gave his team.
Despite dominating major parts of the first half, CR threw away their hard earned lead during the dying stages of play when CR's Malinda Hettiarachchi was shown a yellow card for a punch on an opposition player. It could have been much worse as it was a Red card offense. Kandy opted for a 5 meter scrum off the resulting penalty and the CR 'eight' succumbed under pressure.  Referee Tim Baker had no hesitation in awarding a penalty try which gave Ratwatte an easy conversion. That meant Kandy trailed at the break by only 3 points despite being second best for most the first 40 minutes of play.
Half Time; CR & FC 16 – Kandy SC 13
Cup finals are more about percentage rugby and points on the scoreboard and like champions team go about with the task at hand, Kandy were soon on level terms in as early as the 42 minute with Nigel Ratwatte firing across a well measured penalty kick from 35 meters out. (16-16).
 Photos – Kandy SC v CR & FC – Dialog Rugby Clifford Cup Final 
Five minutes later however it was the 'Reds' who struck back with a try. Jason Dissayake who was in his usual brilliance created space with a nice angle run before feeding winger Kavindu Perera who sped through to score. Tharinda Ratwatte was on target with the conversion (23-16).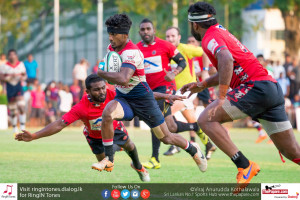 The game began to open up and within a space of a few minutes Kandy replied with a try of their own. Kandy entered the opposition territory through their forwards before sending the ball to the corner, a move which was finished off by Richard Dharmapala. Nigel Ratwatte's conversion attempt smashed against the woodwork and CR managed to stay ahead by two points (23-21).
Next it was CR's chance to go on attack. A Kanchana Ramanayake burst saw CR bring play into their 10 meter zone before he was brought down. The arriving CR backs showed good hands to release Prince Chamara through and score an easy try. The conversion was missed but CR led 28-21.
Champion teams always find a way out of adversity and Kandy SC did just that hitting back in style through a magical Srinath Sooriyabandara try who breezed past the his opposition defenders leaving them all at sea. Nigel Rattwatte matched the glamour of the try with a gem of a conversion from the corner flag to equal the scores (28-28).
With 10 minutes to go CR seemed to lack leadership and lost focus giving away possession and penalties. Replacement Thilina Weerasinghe missed a difficult penalty kick in the 74th minute, but CR carelessly gave away another penalty almost right after the 22′ drop out.
Nigel Ratwatte who was having good game overall, stepped up and delivered, firing across the 3 pointer to put his team in the lead with just under five minutes remaining. Knowing the contest was theirs to lose, Kandy maintained their composure and kept CR pinned in their half for the remainder of this period and the game ticked off to its climax.
As the sun came down at the Racecourse Rugby Stadium, by the end of a thrilling contest Kandy SC had once again cemented their status as the undisputed champs in Sri Lanka Rugby.
ThePapare.com Man of the Match – Nigel Ratwatte (Kandy SC)
Full Time; CR & FC 28 – Kandy SC 31
CR & FC 28: Tries By Jason Dissanayake, Tharinda Rattwatta, Kavindu Perera, Prince Chamara

               1 Conversion & 2 Penalties by Tharinda Rattwatta,1 Penalty by Prince Chamara
Kandy SC 31: Tries by Richard Dharmapala, Srinath Sooriyabandara & 1 Penalty Try

                      2 Conversions and 4 Penalties by Nigel Rattwatte