Havelocks SC racked up six tries as they started off the 2nd round of the Dialog Rugby League 2015-16 with a 38 (6T 4C) – 05 (1T) win over Air Force at the Air Force ground, Rathmalana.
Havelocks scored three unanswered tries in the first half and a late try by Ishara Madushan for Air Force made it 19-05 at half time. Kevin Dixon scored a try sandwiched between one each from Dushmantha Priyadarshana and Lasindu Ishan Karunathilaka to end the day.
Coach Laga went in with a young line-up as the Havies were hampered by injuries to Shenal Dias, Danushka Ranjan, Ganuka Dissanayake and Niroshan Fernando, while Dulaj Perera was out for the whole season.
After the youngsters impressed against CH&FC last week Laga kept faith in them as he benched Sudarshana Muthuthanthri, Rahul De Silva and Thusitha Samarathilaka giving Karunathilaka the No.08 position and playing Nishon Perera alongside Hirantha Perera at center.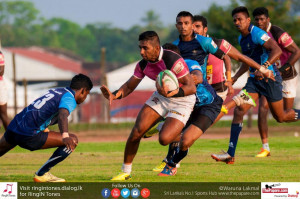 Air Force was too having a few injuries with Gayantha Iddamalgoda taking over as captain for the missing Pradeep Kurukulasooriya and Coach Leonard De Zylva had made a few tactical changes as well.
It was a win even before kick-off for Havies as they won the toss and opted to play with the strong breeze which blows from east to west.
Air Force were pinned in their own half unable to clear the ball but weathered the storm for the initial quarter of an hour as the new look Havies took time to settle down.
It was Prasath Madushan who went over the try line first after the Havies won a lineout and opted to attack on the blindside with their forwards, as Madushan crashed home near the corner flag. Rimzi Jamaldeen playing at fly half missed the conversion. (00-05)
In the 20th minute Havelocks used the width of the backline as a long cut-out pass found skipper Sandun Herath who stepped inside two defenders and dashed 25meters to score under the posts. Jamaldeen easily put away the gift. (00-12)
Minutes later, it was once again Herath who went over for his second try when he collected Hirantha Perera's long pass and turned Ramdas Rumesh inside-out to score near the right corner. With the wind advantage Jamaldeen bisected the uprights from an acute angle. (00-19)
The next 10 minutes went in favour of Air Force as Nuwan Perera, one of the highest points' scorers this season was in the thick of things. They were pegged back twice from meters away but were not denied a third time as Ishara Madushan dived over near the right corner after a flowing move.
HT (Air Force 05- Havelocks 19)
Havies shut down any indication of an Air Force come back with an early try in the second half from Dushmantha Priyadarshana who barged over from close range and Jamaldeen neatly tucked away the extra points. (05-26)
Coach Laga brought in the experience of Rahul De Silva and Muthuthanthri early on as Rahul stole the ball from a scrum inside his own half and sent free Herath on his trademark runs and the move was capped off by the dynamic Kevin Dixon who wrestled over for a try under the posts. (05-33)
Air Force twice came near the try line but was denied due to poor ball handling while Karunathilaka on the other end fended off one to score from a 5m scrum near the end. Kick was missed by Rahul De Silva.
FT (Air Force 05- Havelocks 38)
ThePapare.com Man of the Match: Sandun Herath
"We knew the wind would be a factor but our tactics didn't work and our ball retention was poor throughout.  Need to look into that. The impact players did not pull their weight. We want to be in the top six, that's our aim," a dejected Coach of Air Force Leonard De Zylva added.
"Yeah we need to try (young players) and we have 8 guys injured. Slow start and took us longer than expected to settle and the quality of play was not up to the mark. I thought Nishon played well at centre, we need to find someone for Danushka," Laga stressed on the improvements needed.