CR & FC managed to cruise home after leading 6 nil in the first half against Police. With three tries CR dispatched a rather lackluster Police Sports club at Longdon Place.
Returning to the starting lineup Tharinda Ratwatta kicked off the game in a rather dreadful manner as he kicked the ball out on the full. Both teams were careless in the first few exchanges of the game as the game was a stop-start affair.
 Photo Album – CR & FC v Police SC 
Points were hard to come by as both teams defense held strong throughout the first half. Neither team managed to get a strong hold in the first 40 minutes as costly mistakes compounded and the penalty count was on the high side for both teams.
A penalty double from Prince Chamara drew the curtain down on a rather dull 40 minutes of rugby and put an end to both teams misery. (CR 06-00 Police)
Half Time: CR & FC 06 (2P) Lead Police 00
Both coaches would have had tough team talks in the break as the teams looked more positive from the word go in the second half. The positive approach paid dividends as CR & FC managed to score the first try of the game. A good scrum yielded front foot ball for CR as they spun the ball left. Two phases later CR scrum-half Dilan Soyza threw a shot pass to Jason Dissanayake as he barged his way through the Police defense to score under the post for CR. Prince Chamara converted with ease to add the extras for CR. (CR 13-00 Police)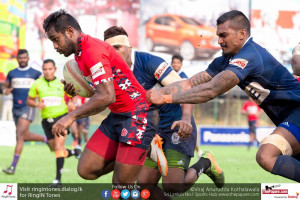 CR & FC continued to press hard on the Police defense as they did not let the momentum slip away. Discipline let the Cops down at the break down as they continued to fold under the pressure from CR & FC. A Penalty for handling in the ruck went the way of CR as they kicked to touch and worked the line as Ashan De Costa threw a flat miss pass to Shashan Mohamed who stepped his way round the last defender and dotted down in the corner. Full back Chamara failed to convert as the score remained 18 nil in favor of CR (CR 18-00 Police)
With time running out on Police, and the game drawing to a horrific end up- stepped the ever reliable Centre Mushin Faleel as he collected a good  pass, straightened the line and fed winger Mohomed Absal to crash over the whites in the far corner. Replacement Fullback Rizah Mubarak failed with the touch line conversion. (CR 18-05 Police)
Sudam Suriyarchchi had a torrid time as he was moved to the Wing. The game went from bad to worse for the Winger as a knock-on was picked up by CR as they counter attacked from 25 meters out, two passes later Rehan Silva found himself at the right place at the right time as he scored his first try for CR & FC as the game drew to a close. Prince converted the try successfully. (CR 25-05 Police)
Full Time: CR & FC 25 (3T 2C 2P) beat Police 05 (1T)
ThePapare Man of the Match: Jason Dissanayake (CR Flanker)